Location:
HEAL THE WORLD: World Meditation Hour
19/05/2013 18:30 - 19:30
Heal The World :
WORLD MEDITATION HOUR
6.30pm to 7.30pm

For this designated hour people across the world sit together for World Peace on the 3rd Sunday of every month. World Peace Hour is a time to explore the magic of good wishes and kind feelings in silent meditation. The Brahma Kumaris started World Peace Hour in 1978 and it now takes place in all its meditation centres in over 100 countries around the world.
Please join us - there is nothing more powerful than our thoughts.
BKWSU
Raja Yoga Meditation Centre
Aberdeen

Walking the Way of the Angel
21/06/2013 19:00 - 20:30

What is an angel and can you become one?
Find out what it really means to be an angel.
This is a workshop to make your spiritual dreams a reality.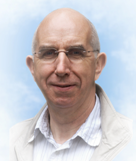 Our guest facilitator for this wqorkshop is John McConnel.
John works as a stress management trainer and is a formerprison governor and social worker, who has been studying and teaching Raja Yoga for nearly 20 years.
He conducts a variety of workshops, in this country and abroad, adopting a spiritual approach that enables people to improve their quality of life and to help change the world.
BKWSU
Raja Yoga Meditation Centre
Aberdeen

Inner Peace, Inner Power
28/06/2013 - 01/07/2013 19:00 - 14:00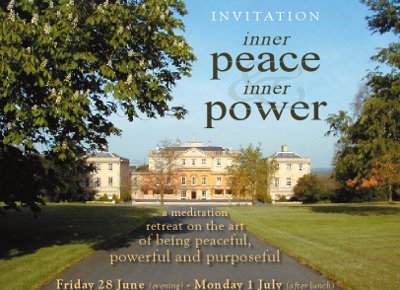 Rediscovering deep inner peace, increasing personal power and ...
People learn to meditate for a variety of reasons. For many it is simply a desire for inner peace,
for others it is part of their quest for truth and understanding, and for some it is the hope of
discovering the holy grail of happiness. Meditation can satisfy each of these desires.

Meditation helps us to experience the unlimited nature of our minds, which is only possible
when we become free of uncontrolled mental chatter. In the process of freeing ourselves from
inner noise, we come to understand more deeply the relationship between our conscious mind
and unconscious mind. It becomes easier to control our emotions and our intuitive capacity is
enhanced. A quiet mind brings improved levels of contentment, concentration, creativity and
communication. These, in turn, are the foundations of both our personal well- being and our
harmonious relationships with others.

The deepest impact of meditation is on our spiritual growth. Beyond the surface definitions
which we tend to give ourselves and others, we are essentially spiritual beings. Meditation
reconnects us with our true spirituality, resulting in deep inner peace, increased personal power
and a clearer sense of purpose.
The Organisers
The Brahma Kumaris World Spiritual University encourages self development through
enlightened enquiry and medit ation. The University has medit ation centres and retreat venues
around the world, providing an oppor tunity for spiritual growth and personal change.

The method of Raja Yoga meditation which the Univer sity teaches worldwide is currently
practised by over 500,000 people of all ages and back grounds in over 90 countries.
You might like to visit www.globalretreatcentre.org
The Retreat Centre
The Global Retreat Centre, Nuneham Courtenay is an 18th Century Palladian Villa set in 50
acres of Oxfordshire countryside alongside the River Thames.

There is a natural atmosphere of serenity and spaciousness. Accommodation is in twin bedrooms
with ensuite bathrooms and each room looks out onto gardens. There are ample areas for
solitude, personal study and walks, with the riverside being an ideal place for ref lection.

Vegetarian meals will be provided and participants are asked to abstain from smoking, alcohol
and drugs (except prescribed) for the duration of the retreat. Car parking is available on site.
Please bring your own towel and toiletries. The Retreat is free of charge - though your voluntary
contributions are welcome.
TO APPLY FOR A PLACE, PLEAE CONTACT US AS SOON AS POSSIBLE (Tel +44 (0) 1224 639 105.
Preferences will be given to those who haven't attended a previous retreat at The Global Retreat Centre.
Global Retreat Centre
Nuneham Park, Nuneham Courtenay, Oxon
Oxford
OX44 9PG